Body Sculpting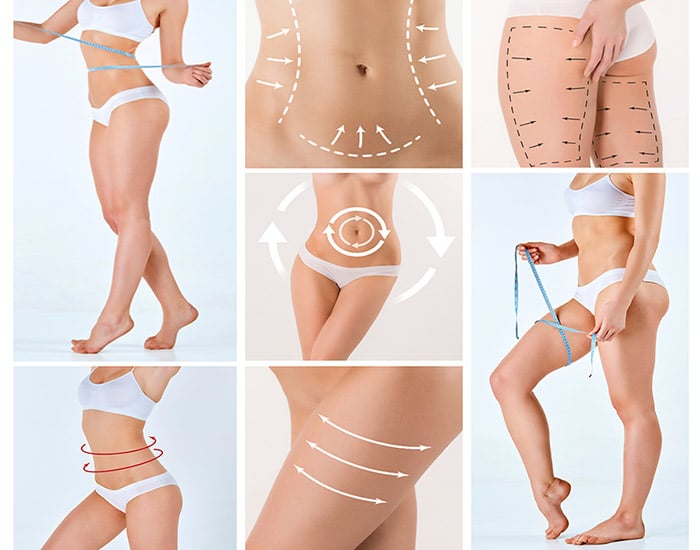 Body Sculpting Procedures in Perth
As we age, our bodies naturally tend to sag in places and we lose the taut, lean profile that we enjoyed in our younger days. Dieting and exercise can go some way to slowing or even reversing the process but if you want to regain the silhouette of your youth, cosmetic procedures known as body sculpting are the most effective option. Dr Peter Randle has a great deal of experience with all of the following body sculpting plastic surgery procedures.
A toned, well-contoured body is a symbol of fitness and vitality. However, factors like ageing, genetics, pregnancy, and weight fluctuations can often lead to areas of stubborn fat, loose skin, and uneven contours. That's where body sculpting procedures come in.
At Dr. Peter Randle's practice, we offer a comprehensive suite of body sculpting procedures designed to help you achieve a more proportionate and attractive body shape. Whether you're looking to flatten your abdomen, slim your thighs, or tone your arms, we have a solution tailored to your unique needs.
Dr. Randle is the only surgeon in Western Australia who is board-certified in plastic and reconstructive surgery. In Australia and USA, he has a fellowship in cosmetic surgery. He combines this expertise with a deep understanding of the human body's aesthetic proportions to help you achieve your body goals.

Our Body Sculpting Procedures
Liposuction:

Liposuction is a versatile procedure that can remove excess fat from virtually any part of the body, including the abdomen, thighs, arms, back, and even the neck.

Tummy Tuck (Abdominoplasty):

A tummy tuck is designed to flatten the abdomen by removing excess skin and fat and tightening the underlying muscles.

Arm Lift (Brachioplasty):

An arm lift can remove excess skin from the upper arms to create a more toned appearance.

Fat Grafting: There are many instances where the addition of fat to areas such as buttocks and hands can achieve a balanced proportion to the body being sculpted.
Customised Body Sculpting Plans
Body sculpting is not a one-size-fits-all approach. During your consultation, Dr. Randle will carefully evaluate your body, discuss your aesthetic goals, and develop a personalised treatment plan tailored to you.

Enhancing Your Natural Contours
Body sculpting is as much an art as it is a science. Dr. Randle applies his artistic sensibilities and expert understanding of body proportions to enhance your natural contours. His goal is not to change your body drastically but to refine your silhouette, creating results that feel natural to you.
State-of-the-art Techniques and Technologies
In order to provide the best outcomes, Dr. Randle stays up-to-date with the latest developments in the field of body sculpting. He uses state-of-the-art techniques and technologies to ensure your procedure is as efficient, safe, and effective as possible.
Prioritising Your Safety and Comfort
Your safety and comfort are our top priorities. Dr. Randle and his team take every precaution to minimise risks and to ensure your experience is as comfortable as possible, from your initial consultation through to your recovery.

Post-Procedure Care
After your body sculpting procedure, our dedicated team will provide you with comprehensive aftercare instructions. We will also be available to answer any questions and address any concerns you may have during your recovery. Our goal is to ensure a smooth, comfortable recovery.
Why Choose Dr. Peter Randle for Body Sculpting?
Choosing Dr. Peter Randle for your body sculpting procedure means trusting in his extensive experience, dual board certification, and artistic touch. Dr. Randle is committed to helping you enhance your body contours, boost your confidence, and feel comfortable in your own skin.
Start Your Body Sculpting Journey Today
Take the first step towards your body-sculpting transformation. Contact us today to schedule a consultation with Dr. Randle. We look forward to walking alongside you on your journey to a more confident you.
The removal of fat and loose skin around the thighs, buttocks, hips, stomach and waist can transform your figure and boost your self confidence immeasurably.
Fat grafting can reshape the entire body by removing unwanted fat from one area and putting it in another. This procedure is commonly seen in the buttocks and face where people are unhappy with lost volume, disproportion body contour, unbalanced shape or wrinkling due to due to age, weight loss/gain or heredity.
If you are unhappy with the appearance of your labia or they cause you significant discomfort and you would like to explore a permanent solution to your problem, labiaplasty (surgical alteration of the labia) is a procedure that you may wish to consider.
The removal of fat through suction is a cosmetic procedure that can dramatically alter the appearance of your body. Liposuction in Perth is one of our most popular treatment options.
A tummy tuck will remove excess skin and fat from your abdominal region, resulting in a leaner, more pleasing physique.